Here we go !!
FR : Maintenant les amis , nous avons un mumble pour la team !!
Ne vous inquieter pas des section du haut , j'utilisai ce mumble pr jouer a counter strike ,
je ferai le menage bientot et nous conserverons la mm adresse .
J'espere que sa vous plaira cette idee ...
PS: Je demanderai a luffy quand tu vera le post , si tu peux mettre les infos dans un Topic unique a l'acceuil que tout le monde y est acces , et sa sera plus simple pr tester les gens aussi tu peu parler direct avec sans perdre du temps a ecrire sur LFS

EN : Now guys , we have a mumble for our team !!!
don't worry about the section on top of mumble , i used this mumble when i play counter strike :p ,
i'll make a clean version soon but adress not change .
I hope u enjoy about that ...
EDIT : PASSWORD : evod



Messages

: 58


Date d'inscription

: 2011-10-12


Age

: 29


Localisation

: france



MAJ du mumble des Evo°D !
Update of Evo°D mumble !
nouvelle config :
*quand vous arrivez , vous arrivez direct dans acceuil ( plus simple )
*parametrage des droit OK
*Chan Privé pour les Evo°D member
*Disponible pendant 6 mois renouvellable ( jmen charge )
*New CFG server :
*when u come , u arrived on welcom chan ,
*some channel are prived for evo°D member
Adress : srv17.mumblegratuit.com
Port : 10907
Pass : evod
capacity member : 999
[img]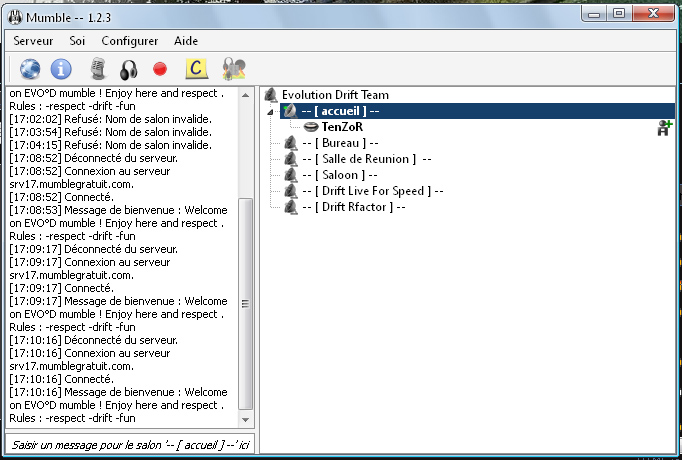 [/img]



Messages

: 58


Date d'inscription

: 2011-10-12


Age

: 29


Localisation

: france



depuis hier j'essaye de join x)

________________



Messages

: 386


Date d'inscription

: 2011-07-23


Age

: 25


Localisation

: 95



________________



Messages

: 386


Date d'inscription

: 2011-07-23


Age

: 25


Localisation

: 95





Similar topics
---
Permissions in this forum:
You
cannot
reply to topics in this forum